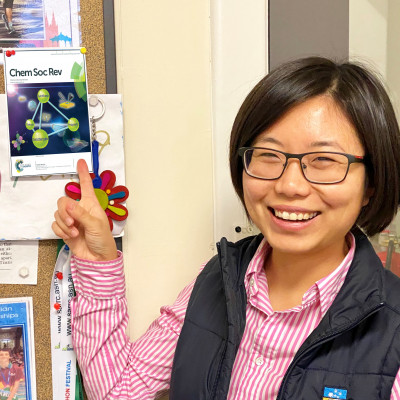 "I feel fulfilled when I discover a way of doing things or a new solution. I also love coding and learning new software."
Where did you grow up? Were you always interested in your current field?
I grew up in Shandong Province, China.
My current research field is modelling materials for clean energy conversion reactions. I've always been interested in clean energy conversion, and that started when I was in secondary school. At that time, my interest was in fuel cells, an energy conversion device that consumes hydrogen and produces energy plus water, with much higher (energy conversion) efficiency compared to the internal combustion engine. But then it evolves to a broader range of clean energy conversion reactions, such as electrocatalytic CO2 reduction.
I got a Bachelor of Science degree in Physics, that background lead me to the molecular modelling pathway.
Are you working from home? If so, how's it going?
At the beginning of this year, I was working from home for a few weeks. It saved heaps of my travel time.
Do you have kids/pets at home that are helping/hindering?
Yes. I have one very energetic and curious four-year-old boy. He tries to help with housework but then loses interest quite easily. The things that he tried includes (but is not limited to) operating the washing machine, watering plants, giving suggestions for dinner, and creating holes on his pants (by I don't know which method).
What projects are working on?
From the theoretical point of view, currently, I am working on bridging theoretical modelling and experiments. There are many discrepancies between these two areas, which I believe can be improved by research.
From the application point of view, I am working on the design of electrocatalyst materials for clean energy conversions.
What do you want people to know about the work that you do?
By the work that I am currently doing, we can liquefy Australian's sunlight (and wind energy) to fuels, and create an export commodity. But there is a deep valley between my work (very low TRL which stands for Technology Readiness Level) and real applications (relatively high TRL), which need collaboration with experts from different research fields.
Why do you love what you do?
For many reasons. I am passionate about designing new materials (which might never have exist before) that can be used for clean energy conversion reactions. I feel fulfilled when I discover a way of doing things or a new solution. I also love coding and learning new software. I can spend hours working out a solution by coding.
What is one specific thing that you have achieved (research or otherwise) that you are most proud of?
I was recognized as a Highly Cited Researcher in the field of Chemistry, by Clarivate Analytics.