NCI's newest supercomputer is Gadi, Australia's peak research supercomputer for 2020 and beyond.
A 3,200 node supercomputer comprising the latest generation Intel Cascade Lake and Nvidia V100 processors, Gadi supports diverse workloads

with over 9 petaflops of peak performance.
Technical Specifications
Gadi contains more than 180,000 CPU cores, 567 Terabytes of memory and 640 GPUs.
3,074 nodes each containing two 24-core Intel Xeon Scalable 'Cascade Lake' processors and 192 Gigabytes of memory.

including 50 nodes each offering 1.5 Terabytes of Intel Optane DC Persistent memory.

804 nodes each with two 14-core Intel 'Broadwell'

processors
192 nodes each with two 16-core Intel 'Skylake' processors

160 nodes each containing four Nvidia V100 GPUs and two 24-core Intel Xeon Scalable 'Cascade Lake' processors.

Linking the storage systems and Gadi is Mellanox Technologies' latest generation HDR InfiniBand technology in a Dragonfly+ topology, capable of transferring data at up to 200 Gb/s.

The storage sub-systems are NetApp enterprise class storage arrays, linked together in a DDN Lustre parallel file system.

Altair's PBSPro software optimises job scheduling and workload management.

Gadi uses the Rocky Linux 8 operating system.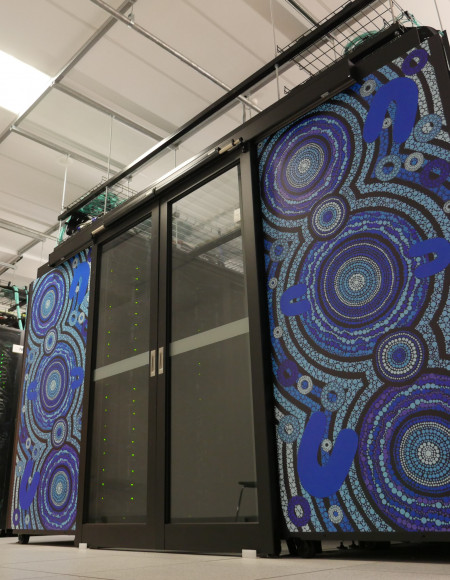 Gadi offers a 7 times increase in computational performance, and a significantly increased number of GPUs compared to its predecessor, the Raijin supercomputer. This provides significant benefits for the largest parallel codes in particular, and all users benefit from shorter queues and higher throughput. 
Gadi first launched to NCI users in mid-November 2019. User documentation about the system can be found in our User Guides.
The Gadi installation was documented on our dedicated blog. Read through to see each step of the progress.