The Governor-General and Chancellor of the Order of Australia, His Excellency General the Honourable Sir Peter Cosgrove AK MC (Retd), today announced 1214 awards in the Queen's Birthday 2019 Honours List.
NCI congratulates three current use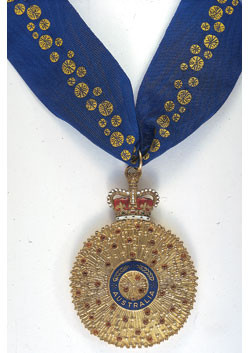 rs on their appointments to the Order and the recognition of their demonstrated outstanding service or exceptional achievement.
Emeritus Professor Leo Radom has received the highest honour, appointed a Companion of the Order of Australia (AC). The citation recognises Professor Radom's "eminent service to science, particularly to computational chemistry, as an academic, author and mentor, and to international scientific bodies."
The Companion of the Order of Australia is awarded for eminent achievement and merit of the highest degree in service to Australia or humanity at large.
Professor Radom's work at NCI is in computational quantum chemistry, using state-of-the-art quantum chemistry calculations to study the structures of molecules and the mechanisms of their reactions. This research is looking at the design of catalysts that could help convert waste materials like CO2 into hydrogen as a fuel.
Professor Katherine Belov has been appointed an Officer of the Order of Australia (AO) for her "distinguished service to higher education, particularly to comparative genomics, as an academic and researcher."
Her research focuses on the genomics of the immune system of Australasian wildlife species. Using high-performance computing, her team is studying cane toad genetic diversity, and the contagious cancer threatening Tasmanian devils.
Professor Mike (Yie-Min) Xie has been appointed a Member of the Order of Australia (AM) for his "significant service to higher education, and to civil engineering."
His research at NCI looked into the development of 3D auxetic metamaterials, specifically the design of special materials for the defence industry.
"On behalf of all Australians I congratulate today's recipients. They have made an enormous contribution to their local communities and to the entire nation and deserve our thanks, admiration and to be celebrated," the Governor-General said.
A full list of recipients is available www.gg.gov.au.
Anyone can nominate any Australian for an award in the Order of Australia. If you know someone worthy, nominate them now at www.gg.gov.au.