NCI User Survey
 

"

The NCI is an outstanding resource and extremely well managed. I can't say enough good things!"
From March to May 2021, NCI conducted a survey of its user base with 450 total respondents. The survey asked users about their research and careers, their views on NCI performance and reliability, research innovation and collaboration, training needs, and general impressions and thoughts about NCI.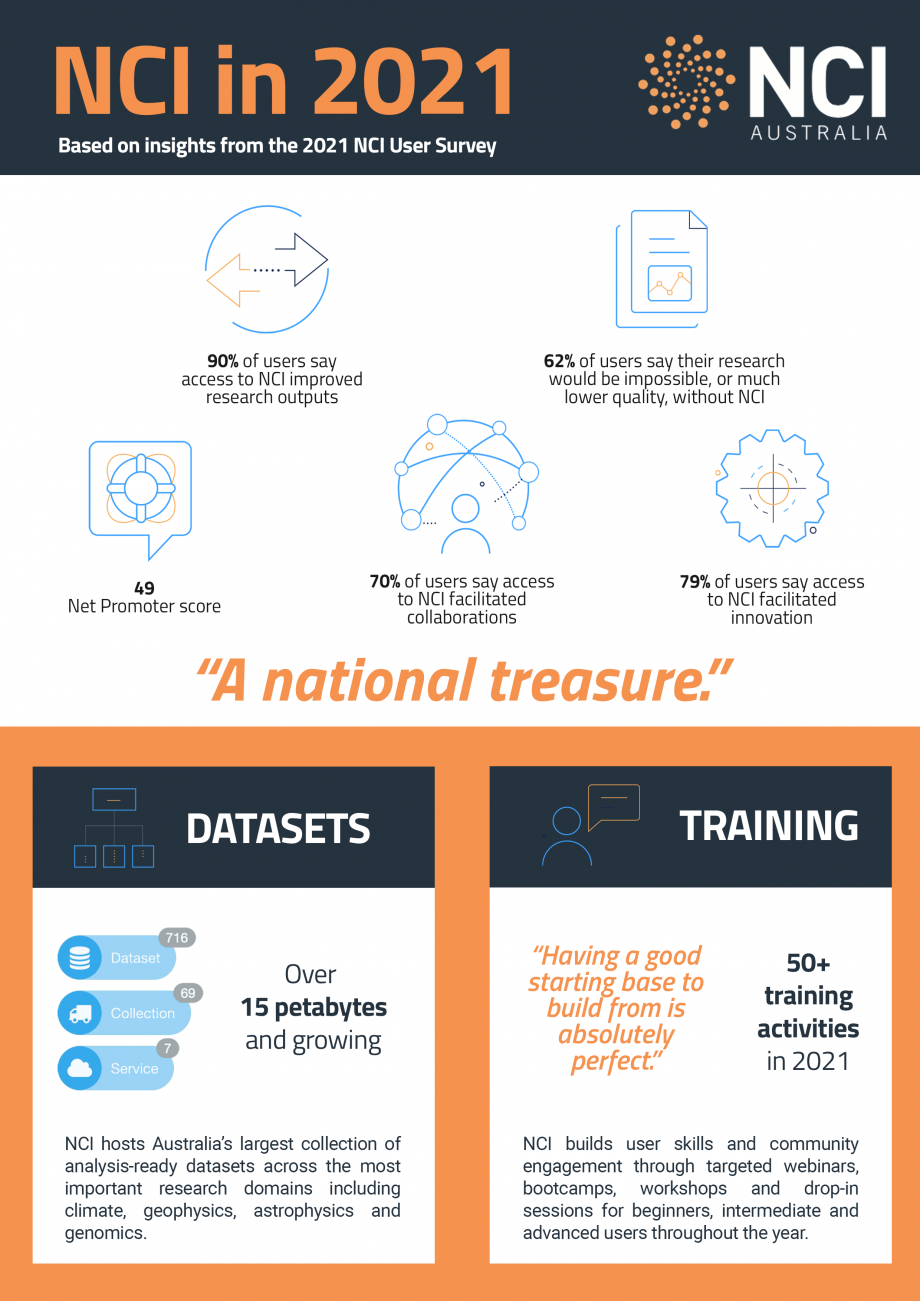 NCI users
NCI users predominantly (50 per cent) work in academia, with 40 per cent of those respondents being doctoral researchers.
Government and APS employees make up 20 per cent of NCI users. 
In comparison, respondents to the NRI Roadmap survey were 77 per cent research and 11 per cent public service or other government employees.
Research
The most common fields of research for NCI users are atmospheric sciences, oceanography, condensed matter physics, mechanical engineering and genetics, compared to NRI Roadmap respondents working more commonly in the biological and biomedical sciences.
90 per cent of users say access to NCI improved their research quality and outputs, and 62 per cent say their research would either be impossible or of much lower quality without NCI access.
Most users say access to NCI has facilitated collaborations and innovation in their research (70 and 79 per cent respectively).
General performance
NCI's Net Promoter score for 2021 was 49, and users ranked Gadi as easy to use (73 per cent), very reliable (60 per cent) and very high performance (50 per cent).
Absolute Net Promoter Score - what's a good score? Creators of NPS, Bain & Company, suggest a score:
Above 0 is good,
Above 20 is favourable,
Above 50 is excellent, and
Above 80 is world class.
Datasets
NCI hosts Australia's largest collection of analysis-ready datasets across the most important research domains including climate, geophysics, astrophysics and genomics.
Over 79% of respondents described NCI's data storage as above average (High or Very High) performance. Over 59% of respondents described NCI's research datasets as 'Very easy to use' or 'Easy to use'. 
Training
NCI builds user skills and community engagement through targeted webinars, bootcamps, workshops and drop-in sessions for beginners, intermediate and advanced users throughout the year.
Only 13% said training met their current needs when the Survey was conducted early in the year. In 2021, increasing training opportunities was a key focus, with over 50 training activities offered through the year (Introduction to Gadi courses, live drop-in sessions, GPU Bootcamps,…). 
Other comments
Beyond calls for more training, the most common general feedback was on performance: more power, more space, and more time, especially for genomics and earth sciences research as Australia's research capacity grows.
Are you someone who would like to know more about our curated data collections?
Are you someone who would like to connect to our visualisation team?
Email us at help@nci.org.au with your questions!