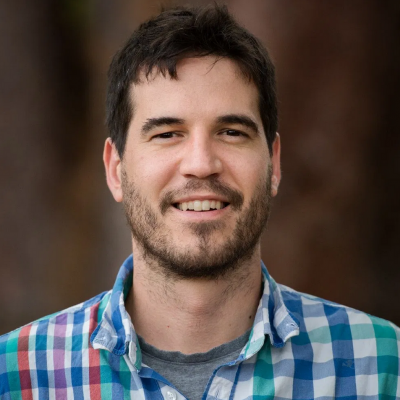 "It's surprising to think that an algorithm initially designed to drive a car could be the key to discovering a vaccine or the reason why we like toilet paper so much."
Where did you grow up? Were you always interested in your current field?

I grew up in Pamplona, a little town in the north of Spain. As a child I wasn't very interested in school apart from sports. It's funny because I enjoyed pulling apart toys, experimenting with fire or playing with computers but I never saw the connection with the things we learnt at school. After a few years wanting to be a swimming coach, I suddenly changed my mind and decided to do a computer engineering degree during my last year of high school.


Are you working from home? If so, how's it going?

I have just got back on campus again. It was quite challenging to work from home with two little children in the house during the lockdown period but there were also very good and special moments to remember. Hopefully things will improve from here so we can soon enjoy a happy and lively campus again.


Do you have kids/pets at home that are helping/hindering?

We have two little children that keep us quite busy and entertained. No pets in the house for the moment although I quite like dogs, especially big hairy ones. We'll think about getting one in the future if someone in the family is keen to share the responsibility.


What projects are working on?

I'm a researcher at the Water and Landscape Dynamics Group at ANU. I explore how machine learning can help us to better understand our planet. Traditionally, we have been relying on physical or empirical models to model and forecast the atmosphere and Earth processes. Machine learning is currently challenging this approach and is showing us interesting things we didn't know before. It's a really interesting area that has grown very fast in recent years. Data are the start to machine learning and we have an enormous amount of data describing our planet, unfortunately there is a lot of work involved to sort and transform these collections before getting to the fun part.

 
What do you want people to know about the work that you do?

Not specific to my work but I find it quite interesting to see how computers are bringing scientific disciplines and communities together. I'm thinking particularly in the case of artificial intelligence and how algorithms that were initially conceived for very specific purposes have demonstrated to be applicable in totally different areas and applications. Suddenly people working in medicine, social sciences or chemistry use the same models and share the same language, which is a powerful situation. It's surprising to think that an algorithm initially designed to drive a car could be the key to discovering a vaccine or the reason why we like toilet paper so much.

 
Why do you love what you do?

I think it's a privilege to be in a job in which we can learn and explore new ideas. I recently completed a PhD and started working as a researcher after 15 years of being a software engineer. It is great to be able to think about what computers can do instead of just writing code for specific applications. It also feels very good to be surrounded by people that share the same passion about learning new things. I'm quite excited with this new stage in my professional life.

 
What is one specific thing that you have achieved (research or otherwise) that you are most proud of?

My years at the NCI were quite fun. I worked in the data team managing the satellite and climate datasets. During those years we developed a system that indexed all the files stored on the NCI containing geospatial data (millions), and came up with a unique system that was able to serve and analyse these datasets in real-time. For me it was a very exciting period and I really enjoyed being part of such a great and talented team. I keep very fond memories of that time.