A delegation led by Fujitsu Limited CEO & Chief Digital Transformation Officer, Takahito Tokita, visited the National Computational Infrastructure Australia (NCI) on 6 April 2022 to further the existing relationship between the company and Australian research through the Gadi supercomputer. This marked the delegation's first visit to NCI since the launch of the Gadi supercomputer in November 2019.
NCI Director Professor Sean Smith said, "It has been a pleasure for NCI to collaborate with Fujitsu over the past decade, and to be able to meet and connect in person this week. Our strategic relationship has produced some wonderful outcomes in software optimisation and technology development that have enabled transformative science outcomes."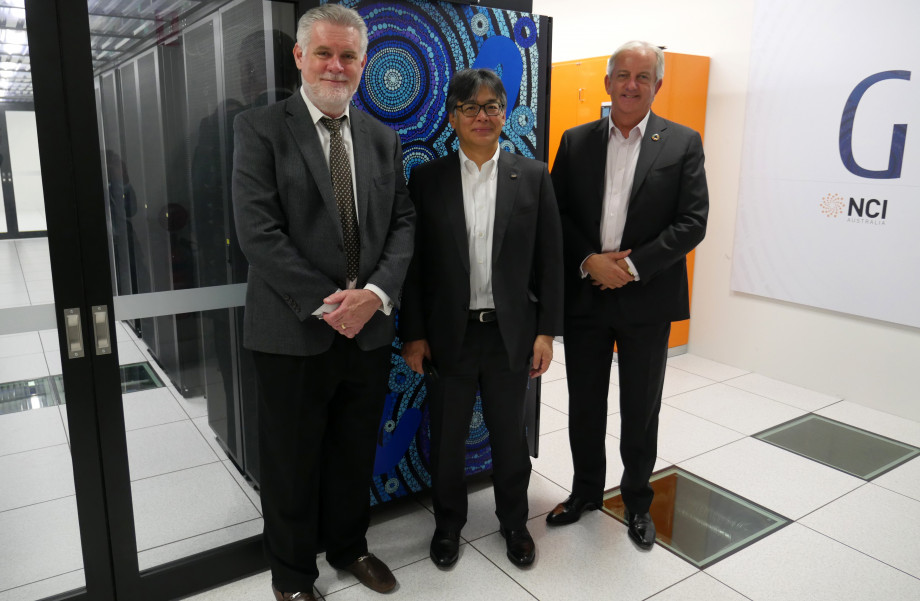 Some of the highlights of the NCI-Fujitsu relationship over the years include information sharing collaborations across multiple facilities and a significant improvement to the widely used ACCESS weather and climate model enabling increased model resolution and improved power efficiency.
NCI and Fujitsu have been working together to understand where the needs of the research communities are moving in the next few years, and what that means for the next generation of high-performance computing, cloud and data infrastructures. 
"Fujitsu is proud to play a part in keeping Australia at the forefront of the world's research community as it helps to solve complex and pressing global challenges. Fujitsu remains committed to engaging proactively with technology leaders around the world like NCI to achieve its purpose: `to make the world more sustainable by building trust in society through innovation.'" said Fujitsu Limited CEO Takahito Tokita.
Gadi, delivered by Fujitsu, offers an eight times increase in computational performance and a significantly increased number of Graphics Processing Units compared to its predecessor, the Raijin supercomputer. It launched at #24 in the Top500 ranking of the most powerful supercomputers in the world in June 2020, with a peak computational performance of 9.26 Petaflops.